"Jesus wept.

 Then said the Jews, Behold how he loved him!"

-John 11:35-36
An interesting thing happens in John, chapter 11. Mary and Martha send a message to Jesus: "Lord, behold, he whom thou lovest is sick."
Jesus' response is fascinating. He says "This sickness is not unto death, but for the glory of God, that the Son of God might be glorified thereby." And then He decides He and the disciples will stay where they are for 2 days.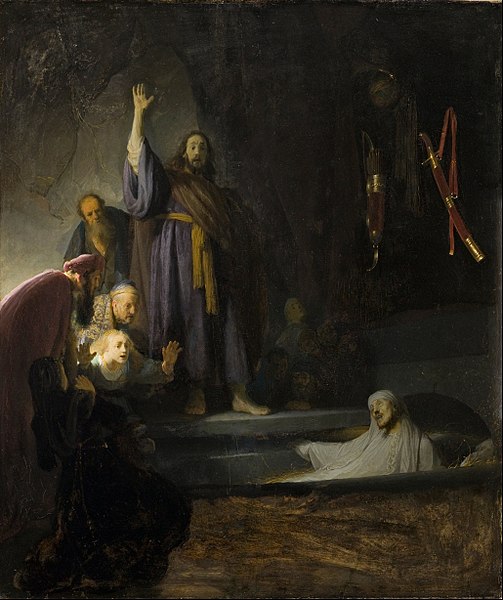 What's interesting about it, of course, is that Lazarus actually DOES die…. for a while.  Further, it's obvious that Jesus knows what's going on, despite not being there, as He tells the apostles after two days have passed, "Lazarus is dead."
So then, why the weeping?
I mean, He knows what's going on. But, more than that, he has power over death. Why weep?
A teacher in Sunday school suggested that the answer is because of Christ's perfect empathy and sensitivity. He wasn't weeping for himself, for the pain of losing a loved one to death. After all, He knows that death is in his control. Instead his sadness was because a loved one had to go through something like this.
In other words, perhaps Christ's suffering in this instance was sadness that his loved ones had to suffer even though he had the power to end it instantly.
Imagine how hard it would be. Knowing perfectly that your beloved friend was suffering and dying. Knowing you could fix it instantly, at will. Yet being perfectly obedient to the plan of the Father, which includes life, suffering, and death.
Perhaps Christ's prime characteristic is his perfect obedience to the Father.  This means that sometimes he has to stand by while we endure challenges and suffering. Yet even as he waits for the right moment to bless us, he suffers keenly by our pains. We are never alone. He weeps with us, and for us.
In all their afflictions he was afflicted. And the angel of his presence saved them; and in his love, and in his pity, he redeemed them, and bore them, and carried them all the days of old;